Will the BOC add strength to the Canadian dollar?
The Bank of Canada will publish a rate statement and an update on the interest rate on September 9, at 17:00 MT time.
Instruments to trade: USD/CAD, CAD/JPY, EUR/CAD
After the rate cut to 0.25% in March, we don't expect any changes this time. Besides that, there are several reasons for following the upcoming meeting of the Bank of Canada. Firstly, we need to see if the BOC representatives find the current Covid-19 response (asset purchases) sufficient in current economic conditions. Secondly, it is interesting to hear any hints on possible changes in the monetary policy framework, which is set to be renewed with the federal government next year. For now, policymakers agree that the 2% inflation target is an appropriate one. And, the last but not least, we will be excited about the comments on the current performance of the Canadian dollar, which is trading at the levels of the beginning of 2020.
If the BOC highlights positive developments in the Canadian economy, the CAD will strengthen;
If the BOC comments about the weak economy and remaining risks, the CAD will weaken.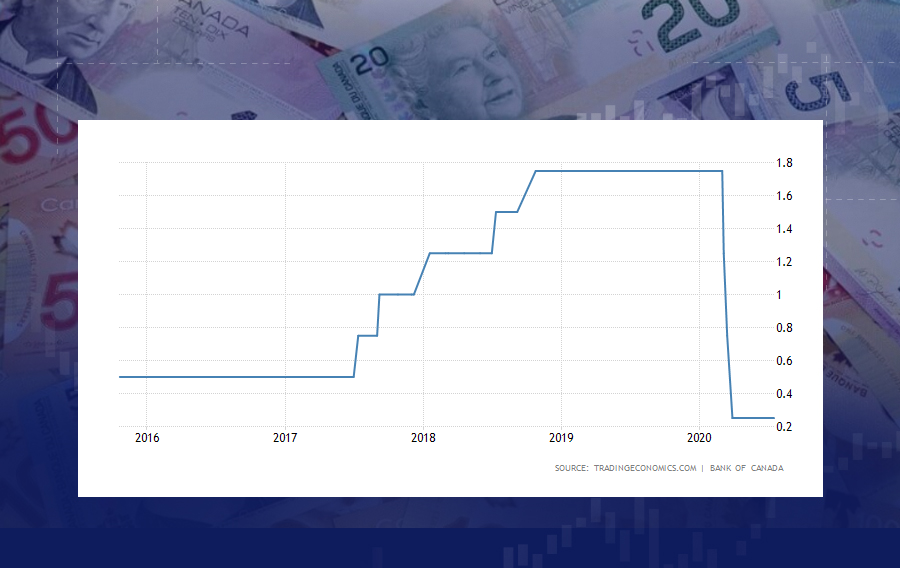 Similar
The Last Volatile Week of 2022
The US Bureau of Labor Statistics will release its Consumer Price Index and many other critical events that will move the market this week!
Latest news
Market Crash Incoming?
This week may be the most important since the year started as the Fed assess the economic outlook and the US presents fresh NFP readings.
What Currency Will Overperform?
S&P Global, a private banking company, will release a monthly change in British Flash Manufacturing Purchasing Managers Index (PMI) on January 24, 11:30 GMT+2. The index is a leading indicator of economic health as businesses react quickly to market conditions, and purchasing managers hold the most current and relevant insight into the company's view of the economy.
Deposit with your local payment systems