Charity with FBS: Help the World Become a Better Place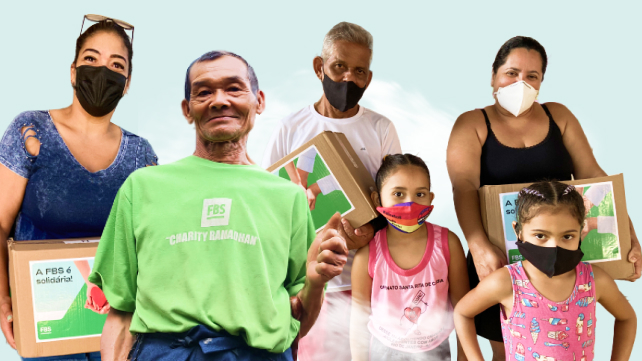 There's nothing more human than kindness. It has existed for thousands of years in various cultures throughout recorded and unrecorded human history. Of course, FBS is not different from the rest of the society – we too see the world that can be improved when looking around us. That's why we make it a point in our work to help as many people as we can. After all, a better world for the less fortunate helps create a better world for all of us.
The company's main goal is to make sure as many people as possible get access to the opportunities for financial freedom, and that is what we try to do with our services. But apart from that, FBS, together with our amazing charitable traders, makes an effort to help people worldwide.
Dreams Come True
Dreams Come True is a monthly contest we host on our social media where people can tell us their most cherished dreams, and FBS makes them a reality. After years of hosting the contest, we can see that these random acts of kindness can change the lives of so many people.
Be it someone who needs a wheelchair for their father or a teacher who asks for a means of transportation to help kids get to school, it always changes more than one life, and we are happy to be of assistance.
Annual Events
Every year we host a charitable trading promo and partner with local and international charities. The idea behind the promo is that when a trader makes a deposit, we raise it by 300%, and as the client trades, the commission is collected to be later donated. This is a joint effort to bring more good to the world. The promo has had several names and helped support many people.
The charitable organizations are mainly focused on helping underprivileged people get better opportunities in life. We are thrilled that every year your clients assist us in this affair.
In 2018, our clients helped collect over $310 000 for Arabic region communities in its Ramadan promo. In 2019, in the Ramadan promo, we raised over $241 000.
In 2020, FBS held a Trade to Help promo globally and helped raise over $434 000 for local charities.
The following year, 2021, the big yearly promo was divided into three to distribute the support for different regions better: the 2021 Ramadan promo helped raise >$136 000, the Songkran promo raised >$10 000, and the Charity Bonus helped raise over >$67 000.
2021 – Ramadan, Songkran, and Charity Bonus.
The 2021 year was when FBS decided to expand our charity efforts to cover as many communities as possible. That's why we launched three separate charity events for different regions. Altogether, over 61 000 traders from all around the world took part in the charity promo. Over $214 000 were raised in total, and we managed to help a huge number of people.
Charity Bonus
For the 2021 Charity Bonus, around 24 500 clients from 172 countries showed up, and, thanks to their help, over $67 600 were raised and donated locally.
We tried to choose the organizations that would provide assistance to people who need it most. The regions that received the help are specifically affected by poverty and injustice, and we hope the FBS's and our clients' efforts helped lift some of the burdens.
FBS helped with food, cleaning kits, and childcare supplies. Here are the organizations that delivered our help to the communities that required assistance:
Colibries Foundation, Colombia (promote diversity, inclusion, empowerment, political and economic equality of communities);
Smile Charity, India (welfare projects on education, healthcare, livelihood, and women empowerment);
Aldeias Infantis SOS, Brazil (fights for the right of children, young people, and adolescents to live as a family);
Red Cross in Brazil (provides shelter, food, and health services).
Songkran
Another charity promo was the 2021 Songkran promo aimed at helping two very important causes in Thailand. Named after the Thai New Year celebration, the promo resulted in over $10 000 collected with the help of 5254 clients from 16 countries.
In Thailand, we specifically wanted to help two organizations. One was Baan Nok Kamin Foundation, which offers assistance to orphans, homeless and underprivileged children, the elderly, and people suffering from drug addiction.
The second one was Chonburi Deaf School – a boarding school for kids with hearing impairments. Unfortunately, the school is still closed due to the lockdown in the country, but FBS is ready to deliver all the supplies we prepared once the government and the school administration say it is safe for our team, the school staff, and the kids.
Ramadan
Finally, the 2021 Ramadan promo was a new installment of our annual effort to help communities in the Arabic region. The promo was dedicated to the celebration of Ramadan by the Muslim communities all around the world.
Ramadan is a holy month in Islam, and it is always closely connected to charity and generosity, as charity is one of the five pillars of the religion. It is within the Islamic tradition to help people in need, especially during Ramadan.
To help over 20 000 people in 10 countries, over 32 000 traders came together to help raise $136 000. Here are some of the organizations we donated to:
Global Peace Mission Malaysia (advocacy and humanitarian activities);
MyCare, Malaysia (provides temporary shelter and helps rebuild homes);
Yayasan Cinta Harapan Indonesia (helps with education for children with autism);
Nour Fe Elbuyout, Egypt (supports the poor, orphans, people with disabilities, and vision impairment);
Angela Foundation for Development and Humanitarian Response, Yemen (food security, education, shelter, protection, economic empowerment, etc.);
Yayasan Salamina, Indonesia (community empowerment institution).
Here at FBS, we believe that you should always strive to help others. We are delighted to see our clients support this idea and make their own contribution.
Together, we have managed to help thousands of people worldwide, and we are not ready to stop any time soon. Every single dream fulfilled, every step made towards improving someone's life fills our hearts with joy! We promise that this charitable effort will continue in the years to come – so follow FBS news and don't miss the next event.
Stay with FBS to be a part of something special.
Always by your side.