The chick and Forex. Level 3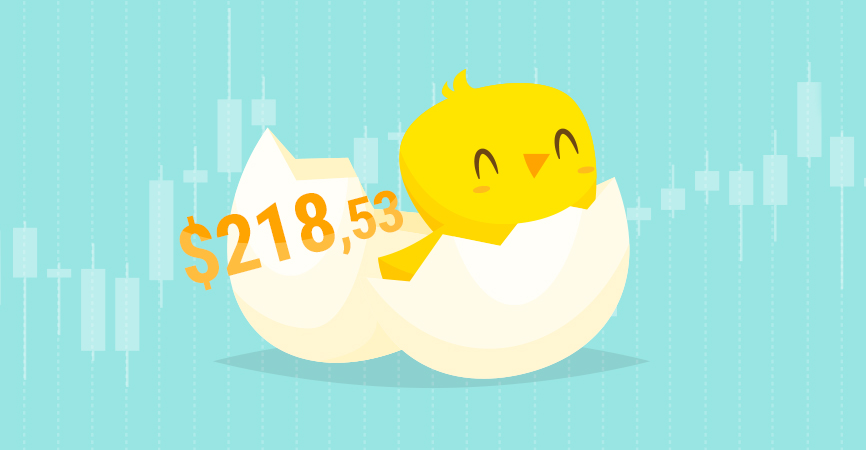 Hello guys, I'm happy to see that you are still interested in my story! If you don't know the beginning of this story, read the first and second part here.
Experiment conditions:
I learn to trade on my own not asking for help from FBS analysts
I describe all the difficulties I faced in my trading diary
FBS analyst tells me what tools I should try using next time
Experiment results:
My home task was to study trend lines and also support and resistance lines
Time spent: 3 days of trading (2 hours for theory and 2 hours for practicing each day)
Account balance starting from the beginning of trading period $142
Account balance at present moment: $218,53
Here you were supposed to read a very inspirational story about my successful usage of trend lines and support/resistance lines. But in fact, things went a different way:
I enjoyed trend trading pretty much.
I strengthened my experience in trading with Moving Averages (MA).
I didn't quite grasp the benefits of horizontal support and resistance lines.
Trend lines
Trend lines are the diagonal lines that are drawn through the price's highs (resistance line) and lows (support lines). Trend lines let traders forecast the future price of a currency pair, gold, or other financial asset and make the best market entries.
Trend trades tend to be the most profitable and safe ones. There are many trend trading strategies, but I follow the rule "don't complicate before you 100% understood everything".
Follow-up of my actions:
I'm a big fan of quick trades and prefer to trade short-term trends during the day. I chose 15-minute timeframe and found a nice downtrend.
I determined the trend lines properly (feeling myself truly an analyst, or genius, or analyst genius) and bought the euro when it was trending down as I expected the trend to reverse up. I opened a buy trade when the pair was at the support line (it is marked yellow).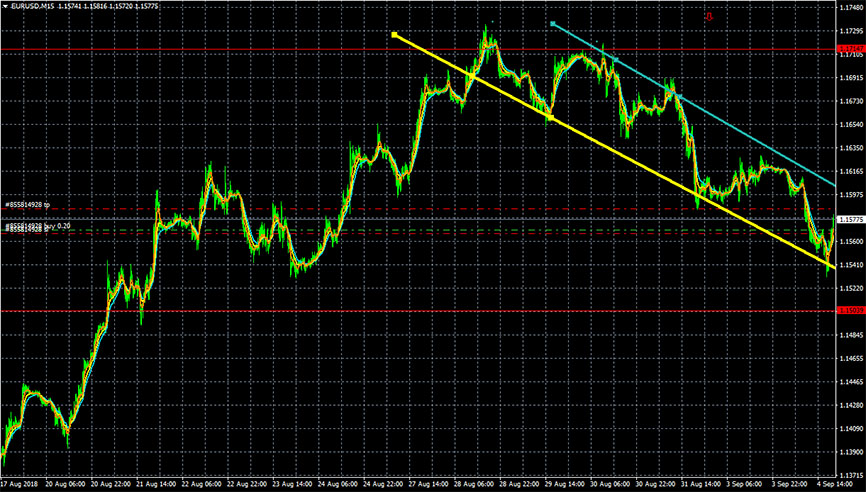 My bad. I opened my trade without confirming that the market was really turning up. I bought the euro before I saw a bullish candlestick on the chart, so my trade was risky and it was an accidental success.
I feel that it's very important to mention that I was sitting with rabbit eyes and watching this trade showing a minus result: -$10, -$20, -$30 (Dear analyst, I do remember about stop losses, and yet!). The most important decision I made is to start meditating "I determined everything correctly, I'm sure in my decision, I need to wait". This time it worked well, but I understand that it doesn't happen always like this.
The feature of my trading: I honestly waited for my hypothesis to be supported, but you never know whether your calculations were correct or not. That's why I left my trend trade open for a couple of hours but at the same time made several short $1-$2 trades based on 3 Moving Averages (5, 10, 15 candlesticks). My first acquaintance with MA is described here.
Analyst's comment
You draw the trend lines correctly! At the same time, you are right that you got lucky and this trade was indeed risky because you traded on a correction (i.e. against the trend). The idea of trend trading is to buy in an uptrend and sell in a downtrend. The trend lines help to find the best moment to open a trade. Sometimes it's necessary to wait a bit until you have your opportunity. In this case, you could have considered selling at the blue resistance line and riding the downtrend. Try this approach next time and you'll see the benefit!
Probably many of you will laugh at my profit, but this is my biggest trade at present moment, $33.8! (and I wasn't dancing with a cat at my living room, nope!).

Moving averages
I remembered everything that was forgotten and reread analyst comments to my previous article for three times. From the big choice of 155 variants of trading with Moving Averages I use only 2 (don't complicate before you 100% understood everything). It doesn't mean I made no profitable trades. Incorruptible statistics shows 7 successful orders vs 1 unsuccessful. But this was not always like this, some time ago the situation was much worse. Only now I got some understanding of how the system works, so I can do my first shy forecasts.
I used MAs with the periods of 5, 10 and 15 candlesticks on M15 timeframe.
I opened a trade when the price touched 5-period MA. If there was a pullback up, I bought. If there was a break down, a clicked on the "Sell" button.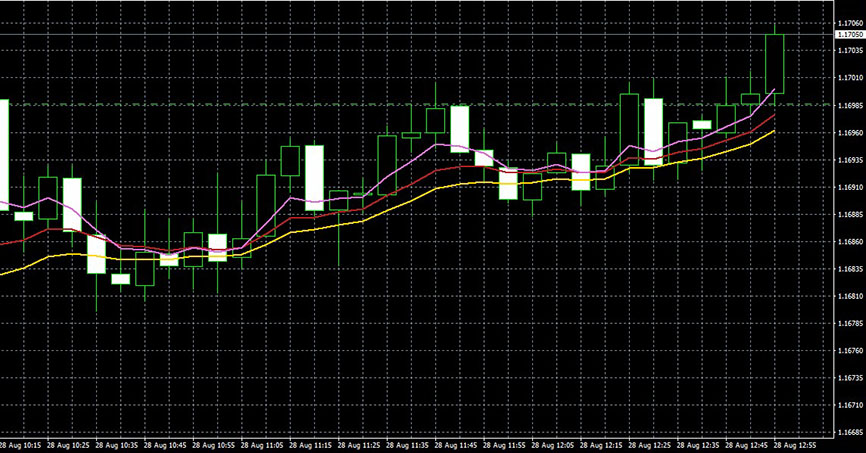 Opening a trade after the fast MA has crossed the slow ones (trend reversal). Here you should be really careful. I paid attention only to the reversals that happened on 15M timeframe or higher (as a trend there is more stable). At lower timeframes signals can be false or turn your profitable trade into a losing one (yep, I lost money trading in M5 timeframes, don't repeat my mistakes).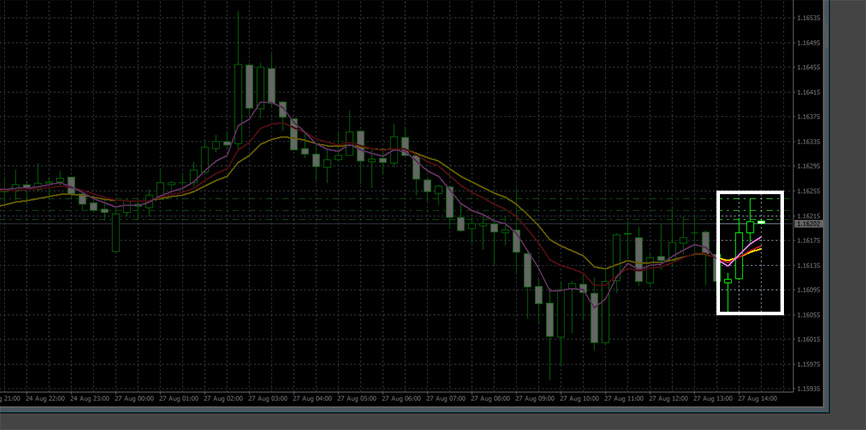 Here is an outline for MAs – use it to enter the trade with this strategy.

The blue Moving Average is the fastest one and yellow is moving is the slowest one.
Analyst's comment
I like that you decided to focus on 2 approaches. Keep on practicing!
Horizontal resistance and support lines
Support lines show where buyers are. As a result, bulls start pushing the price up with their horns once the price gets to a support level. At a resistance level, bears are using their claws to pull the price down. That's where their nicknames come from!
There's a difference between the diagonal trend lines and the horizontal lines which are drawn through the previous highs and lows of the price, at the levels where the prices used to reverse. Reduce the scale of the chart and locate the peaks of the price after which the market's direction changed. They form resistance levels if they are above the current price and act as support if they are below the current price.
You can draw these lines and use them to predict the price changes. The main scenario is that support and resistance will stop the price and make it reverse. Sometimes the prices breaks through these levels. After such breakthroughs, there are usually big and volatile price swings.
S and R lines are firstly drawn on the senior timeframes and then on the smaller ones (from Weekly to H1 and so on). At the smaller timeframes, you make the levels from the senior timeframes more precise and add the new levels.
But truly speaking this is all I know about those damn lines! Analyst, I need your advice – what should I do with this?! Well ok, I draw them… But on my 15M-30M timeframes, they are too far away! I guess pending orders make sense here but I haven't learned how to use them yet. I attach the screenshot of my lines here but as for me, it is not very helpful.
Analyst's comment
Previous highs and lows form very important levels because they often make the price reverse. Mark them on the chart and use then in your trading if the price is near them. If you see no important highs and lows close to the current price, well, use trend lines and Moving Averages instead!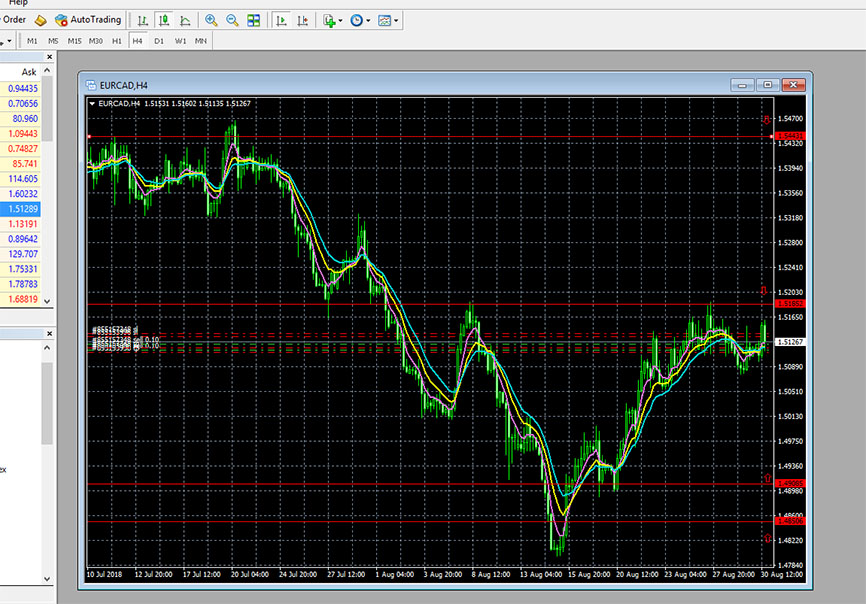 Final result:
You know, I'm satisfied with my results. Not with the giant amount of money earned ($218, haha) but with my improving skills and ability to manage stress. I learned the basic formula "First think, then do". Money is a result, but the reason is you!